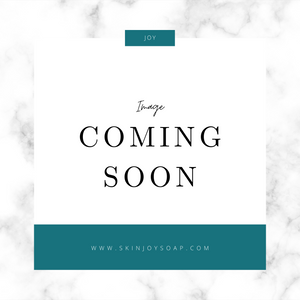 Finely crafted in small batches in beautiful Tennessee, Skin Joy Soap bars are luxuriously formulated with plant-based oils and butters, high quality fragrances and pure essential oils, leaving your skin clean without stripping natural moisture.
Bathe luxuriantly!  The essence of LUSH is fresh and green, a neutral fragrance that embodies the very definition of the word lush - "very rich and providing great sensory pleasure" and of vegetation "growing luxuriantly".  It's a fresh and green mix of cucumber, vetiver, grass, honey, bamboo, geranium, sage, patchouli, oakmoss, and sandalwood.  LUSH Joy Bar is formulated of nourishing botanical oils infused with luxurious silk amino acids.    
Ingredients
Olive Oil, RSPO-certified Organic Sustainable Palm Oil, Distilled Water, Coconut Oil, Sodium Hydroxide*, Castor Seed Oil, Phthalate-free Fragrance, Organic Coconut Milk, Sodium Lactate, Titanium Dioxide, Mica, Iron Oxide Red, Tin Oxide, Chromium Green Oxide, Cruelty-free Silk Fibers
*none remains in finished products
 You will receive one bar of soap weighing at least 4.00 ounces packaged in a white window box appropriately labeled and perfect for gifting.  Due to the handcrafted nature of our soaps each bar is unique.
***Sale bars are amazing soap that have either been discontinued, have faded packaging, and/or have moderately faded fragrance at dry sniff.  Most fragrances do revive in the shower as the outer layer of the soap bar is washed away.  While fragrance can fade with age, extended cure is a hallmark of fine soap, improving lather, longevity, and gentle skin nourishing qualities of the bar***
Plant-based skincare: always cruelty free, phthalate free, paraben free, sulfate free, detergent/surfactant free, petrochemical free, no mineral oil compounds, no PEGS, PPG or DEA, glycol free, gluten free, non-GMO.  Learn more about our star ingredients.
We scent our products in accordance with current fragrance and essential oil usage rates published by The International Fragrance Association.  Learn more