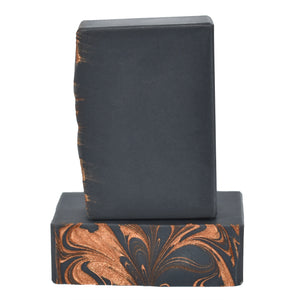 Finely crafted in small batches in beautiful Tennessee, Skin Joy Soap bars are luxuriously formulated with plant-based oils and butters, high quality fragrances and pure essential oils, leaving your skin clean without stripping natural moisture.
Copper + Steel, is a Joy bar made for him, but equally loved by the ladies.  Formulated of nourishing botanical oils infused with luxurious silk amino acids and packed full of deep pore detoxifying activated charcoal.  This complex scent profile is best described as a youthful cologne type - it's woody and masculine with top-notes of lemon, lime and a splash of orange, middle-notes of petitgrain, cardamom, rosemary, lily of the valley, jasmine and rose, and base-notes of amber, white musk, fir, vetiver, oakmoss and rosewood, compare to Abercrombie & Fitch Fierce.
Ingredients
Olive Oil, Distilled Water, Coconut Oil, RSPO-certified Sustainable Palm Oil, Sodium Hydroxide*, Phthalate-free Fragrance, Castor Seed Oil, Organic Coconut Milk, Sodium Lactate, Activated Charcoal, Cruelty-free Silk Fibers
*none remains in finished products 
You will receive one bar of soap weighing at least 4.75 ounces packaged in a white window box appropriately labeled and perfect for gifting.  Due to the handcrafted nature of our soaps each bar is unique.
Plant-based skincare: always cruelty free, phthalate free, paraben free, sulfate free, detergent/surfactant free, petrochemical free, no mineral oil compounds, no PEGS, PPG or DEA, glycol free, gluten free, non-GMO.  Learn more about our star ingredients.
We scent our products in accordance with current fragrance and essential oil usage rates published by The International Fragrance Association.  Learn more